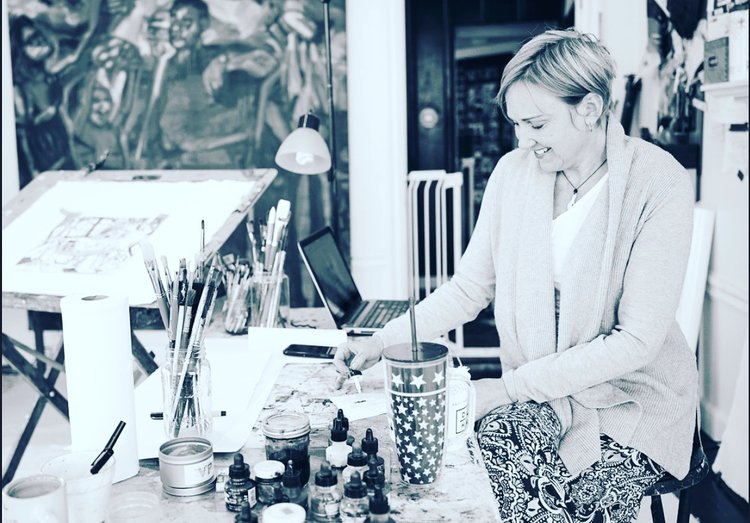 Pirate Crew Paper Doll Collection
Pirate Crew
Thank you all who have lived to tell the tale.
you bedraggled crew of people with missing parts.
lopped off by voyages into the unknown.
walked the plank into dark waters.
fed chemo and now wear scarf.
talking around grog of the sickness of sway.
now gathering on the island having landed safe.
yet tougher and tattooed.
i am now conscripted to this pirate crew.
my initiation day drawing nigh
EMF Dec 9, 2018
Erin - Artist, Breast Cancer Patient.
Erin is currently recovering from double Mastectomy, receiving chemotherapy and radiation treatments.
A 2017 recipient of a Maine Arts Commission Grant, her project, "Art and Chemotherapy," collaborated with New England Cancer Specialists Kennebunk. The outcome of this project was recently published in the CLINICAL JOURNAL OF ONCOLOGY NURSING. ART & CANCER PROJECT in February, 2019 . the outcome of the project was Positive: Art and the artist brought therapeutic relief to both patients and staff. watch a video from the project.
If you would like to purchase Erin's Original works : Venn and Maker Gallery, Portland, Maine.
Prints are also available from : YourArtGallerY, NYC
Erin is a Social Entrepreneur, A Citizen Scientist, and a Change Maker; A Fearless and Passionate Explorer of Materials working to Alter Environments and Evoke Transformation.
Nationally recognized, McGee Ferrell's paintings are collected by Private and Commercial institutions, including TD Ameritrade, AtlantiCare New Jersey, Jones Lang LaSalle Americas, INC. Philadelphia, The Episcopal Diocese of Boston, the CEO of Royal Caribbean Cruise Lines, professional hockey player Kimmo Timonen, and America's Cup Winner- Robert James Gale. Erin McGee Ferrell serves on the National Board of The Episcopal Church and the Visual Arts. Her work has been highlighted at the Arnot Museum, NY and The Wausau Museum of Contemporary Art, WI.
She is a graduate of Mount Holyoke College and University of the Arts Philadelphia. McGee Ferrell has also studied at Pennsylvania Academy of Fine Arts, University of Louisville in Italy, School for International Training in Nigeria, and Maine College of Art.